M i n i
b i o g r a p h y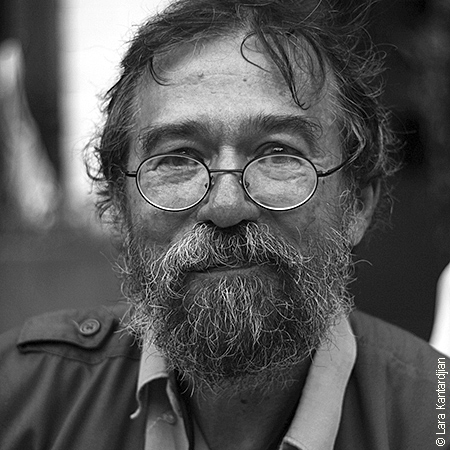 1948: Born in Paris.
1969: First publication in the prestigious magazine Planète, of a short story written the previous year, illustrated with collages in the same style that those of Max Ernst (at this time, I did not know his work). This publication closes a period during which I was interested by the fantastic realism and the Surrealist movement.
I also started practicing street photography. I imagined more likely my future in writing than taking picture.
1969-1975: First pictures taken on the road, particularly in Africa and Asia. The camera was mostly a notebook that I used sparingly, given the cost of films. I was traveling with very modest means.
Between two trips, I worked as dark room technician in several photo labs.
1976: After the worldtraveler period, I give myself entirely to photography for press, magazines and many publishers.
1978: Winner of the Bourse Larousse des Jeunes Reporters-photographes professionnels (Larousse Young Professional Photoreporter Award).
Exhibition of pictures taken in Cameroon at the Kodak Information Center, avenue George V in Paris in this time..
1988: Beginning of a second and long life in the computer press.
1992: Founder of Micro-Simulateur, the first magazine in the world only devoted to leisure simulation.
I began this same year to write and translate many books about computer, virtual reality, flight simulation, and also photography.
By 2010, I resume the practice of street photography I abandoned for a long time, with a come back to the Surrealist movement's themes.
Since 2012: Regular collaboration with the magazine Le Monde de la Photo.
---
My career plan:
- But then, what can I become ?
- A curious.
- This is not a profession.
- This is not yet a profession.
Travel, write, translate.
Learn to live anywhere.
Begin now.
The future belongs to professional curious.
Jules et Jim, François Truffaut
site hosted by OVH | contact bernard jolivalt